A BIT BATTY ABOUT MOTHS
by John Christlieb, Surrey Wildlife Trust
(from FoFD Newsletter Summer 2008)
Some eighteen of us gathered at the Barn for coffee and cookies, moving out to the immediate area of Farthing Downs a little after 9.30 p.m. Our leader, Gill Peachey, had already set up two moth traps; one on the open slope comprising a lamp mounted above a white sheet partly covered by egg boxes, the other, Gill's homemade version of a Skinner trap, at the start of the path down to Happy Valley.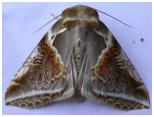 All the moths trapped were transferred to circular perspex containers with a magnified lid so that we could get a good view of these exquisite creatures. Earlier, Gill had caught a few to get us started including a spectacular Popular Hawkmoth (40mm across). Around forty different species were caught during the evening; the most frequent visitor was the Buff Arches (18mm with lovely orange-brown and grey markings – see image) but there were plenty of others of all colours and sizes including a Brimstone moth (20mm, bright yellow with chestnut brown markings).
Lots of dashing back and forth between the two traps, cries of delight as new species were caught and curses as we tripped over stones and cables in the gathering darkness. Gill had brought her bat detector, which clicked away like a Geiger-counter as bats flitted between the trees against a dark blue sky.
For those who had not had enough excitement, Gill took us off on a mad caper across the top fields, looking for glow-worms in a landscape lit only by moonlight. Sad to say, it was too cold that evening for the beetles. We finally dispersed around 11.30, leaving Gill to release all our captives. A great evening thanks to Gill's tireless enthusiasm and Shaun's catering and moth recording skills – definitely one to repeat next year.